Clearwater Engagement Session – Kirin and Kirsten
Kirin was one of the first people I met when I moved to Kamloops.  We became quick friends, having world travels in common, and he proved to be a reliable, generous, and easy going friend.  I'm sure these are just some of the qualities that his fiance Kirsten appreciates.  She is kind, loyal, and motivated and these two complement each other so well.  I'm glad to now call them both friends!  I'm honoured that they've chosen me to photograph their wedding this September.  We had so much fun doing their engagement session photos in Wells Grey Provincial Park, near Clearwater, British Columbia.  Below is their engagement session slideshow, and Kirsten also answered a few questions about their relationship to make this blog story-rich as well as photo-rich… enjoy!
 How did you meet?
The new world way – online dating.  They say there are plenty of fish in the sea, but it lead me to find the only man for me! Our first date was at a Starbucks. I showed up wearing heels, as I always dress up for a first date, and he showed up on a street bike in leathers. At first I thought he was chach and he thought I was prissy and didn't believe my love of the outdoors and camping – just goes to show you that first impressions aren't everything and are often proven wrong. We sat for hours and talked until they kicked us out of Starbucks, by which time our true personalities had come through. On my way home, I called a friend and told her I may have just gone on the last first date of my life… and the rest is history!
How did he propose?
He realized my love of hiking was in fact true, and used that to his advantage. He took me down to Squamish to visit a friend and we planned to hike the Chief, which was on my bucket list. We hiked up to the top with our friend, Kirin hanging a little behind. When we got to the top and our friend was taking pictures of me, I turned around and Kirin was down on one knee with the ring box open!  He just sat there for a second, so I said "Well, are you gonna ask me?"  Of course he did, I said yes and our friend caught a few of the moments on camera for memories to last a lifetime.
What details are you most excited about for your wedding? 
Our wedding is 
Sept 8, 2018
. I am most excited about the whole thing haha – I am super excited about the venue for our ceremony, which is
Monte Creek Winery
– I am a wine lover and always envisioned a vineyard wedding.  The winery has a beautiful setting with stairs to walk down and an archway.  The girls will be in grape and wisteria dresses that will look beautiful in the pictures of the vines.  We will have Kirin's 1962 Volkswagen bug as our wedding vehicle, and I'm sure this is the part of the wedding he is most excited about. I am also really excited about doing our first look and pictures before the ceremony in my mother's backyard – as a child, I had pictured getting married in her backyard, as she has a green thumb and a beautiful garden with an arch.  However, our guest lists wouldn't fit there, so I am glad to have our first look there.  I am looking forward to having Sarah capture all of these moments and many more as she is not only a talented photographer who is able to catch many candid and posed moments, but she is also a dear friend of ours.
How did you choose what to wear for your session, or what kind of look were you going for?
Since our wedding is at the end of summer/ beginning of fall, I thought that engagement pictures would be beautiful in the winter.  I have seen wedding pictures in the winter and loved them, but I didn't want to freeze my butt off on my wedding day.  So… the next best thing I figured was do the engagement session in the winter.   We chose to do Wells Gray as Helmcken Falls is accessible and has a beautiful snow cone. With it being winter, I chose some cute gloves and a toque for some pictures. I used Pinterest for some inspiration.  We brought a blanket for some cozy pictures and a furry vest to add to the cozy winter theme.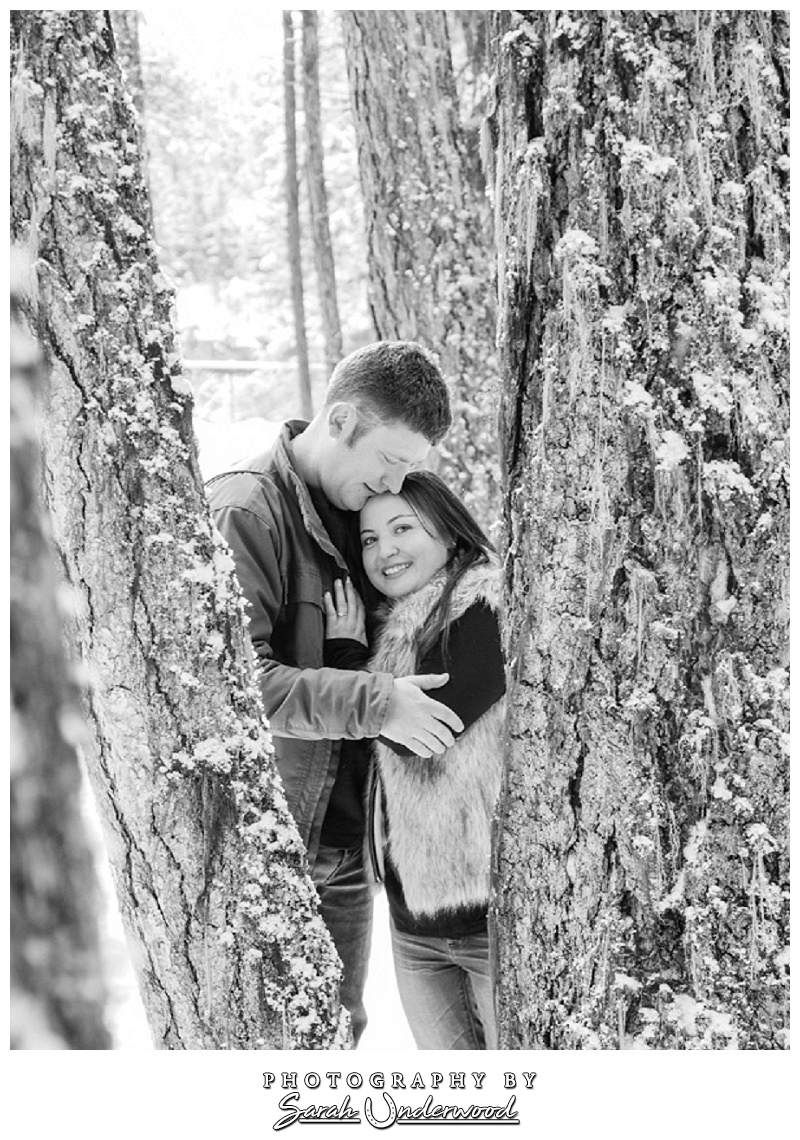 See that little orange speck to the right of the waterfall?  That's an ice climber!  Helmcken Falls is "currently the hardest mixed-route ice and rock climb in the known world".  Have a look at this Red Bull sponsored
climb of the falls
!.
 Do you have any tips or advice for other couples about to have engagement photos taken?
Look on Pinterest to get some ideas of styles that appeal to you – bring 2 to 3 outfits so you have some variety. Try some pics smiling and some more serious, and most of all have fun and laugh with your partner – these make the best pictures.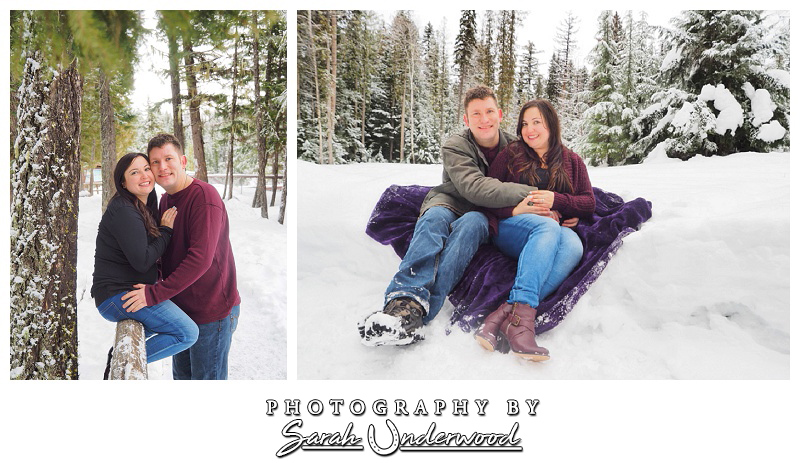 Kirin and Kirsten even brought their snowshoes with them to get over some deep powder.  It turns out taking romantic photos in snowshoes is harder than it would seem — you have to avoid stepping on one another while being close, for one thing!
How was your overall engagement session experience?
Sarah was wonderful – she was patient with us and had lots of ideas of her own and took our ideas into consideration. I had shared some pictures with Sarah from Pinterest that I liked and she exceeded my expectations by taking screen shots beforehand, as she knew we wouldn't have service out there.  She pulled them out to refer to them so we could try to do some similar if not exact to what I had tagged – now is that perfect customer service or what? Thanks again Sarah!
Comments
comments