---
DOGGONE IT!
Do your photos of your dog always look blurry as they zoom by at Mach 10? Do you have a dog who looks like a black hole with eyes in photos? Are your only good pictures of your dog when they're sleeping?
I have the skills to solve all of these problems — when you book a dog photography session with me, you can be confident that we'll come away with dozens of images capturing the adorable personality of your pet. I love dogs of all breeds and sizes, and I have successfully photographed everything from the bounciest pup to senior dogs who are blind or deaf. Both scenarios require patience and lots of treats, which are never in short supply.
I suggest posing with your dog for some of the photos too, as your relationship with them is what makes them so happy! As the saying goes, "I want to be the person my dog thinks I am."
Are you wondering how all the dogs in my pet portfolio are so well-behaved off leash? I'll let you in on a secret… many of them were on leash and I either used creative posing to hide the leash, or it was edited out. I can remove leashes, people, and distracting objects in the background as needed. Your dog does not need to know how to sit or stay for great photos, although it does help, of course! Don't let concerns about your dog's training or energy level keep you from having professional photos taken. I've truly seen it all!
---
PRINT TO PRESERVE
I provide a full-service photography experience.  After creating your custom portraits, I will walk you through a selection process to choose your favourites, in-person or virtually.  You will be able to view artwork samples, and I will recommend the best mediums for displaying your particular images.  Print, cherish, and share your stunning photos!  I offer professional prints, as well as custom-designed albums, canvas gallery wraps, prints on metal, and video slideshows. Each item is personally inspected before being delivered to you.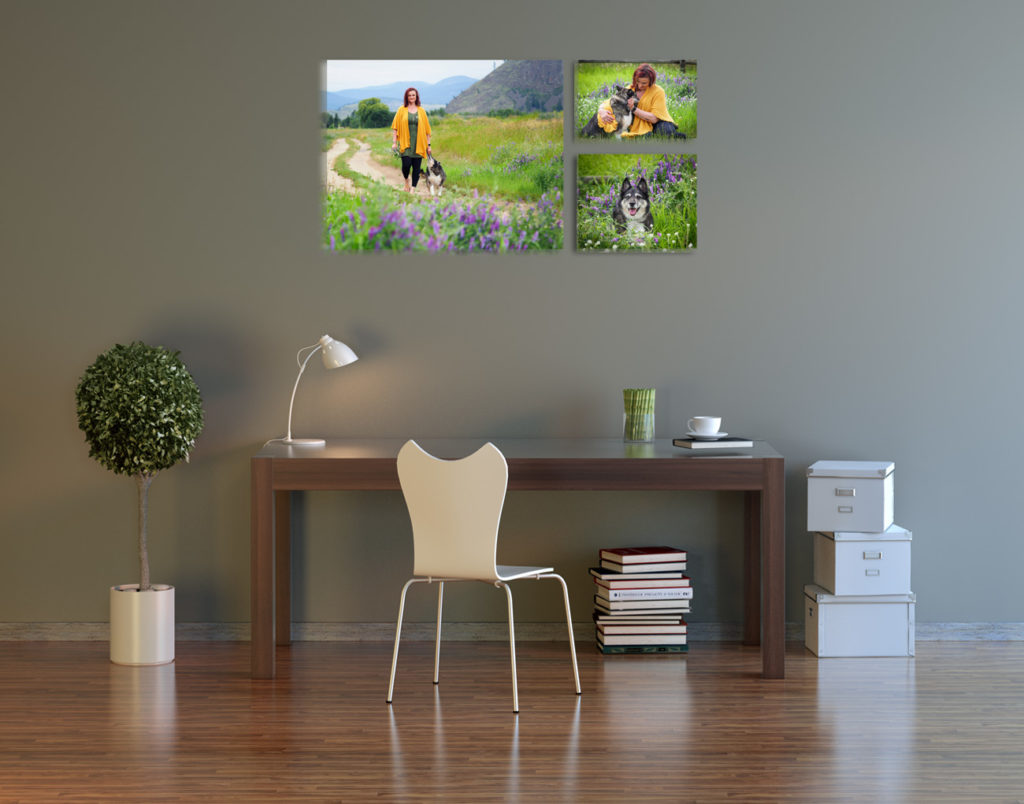 For those planning wall art, my software allows you to preview your images on your walls. Your custom artwork will make you smile every time you walk by. You can display the full collection of images in a durable album I design just for you. Gift items include small prints, image cubes, and mini books.  Digital images sized for social media allow you to share your favourites with all of your friends and family.
Don't let a USB of your memories sit in a drawer for months or even years before you get around to printing them. You can have your professional prints much sooner, and their quality ensures they will last a lifetime.
---
PRICING
A 60-90 minute photography session is $250, and includes a $100 print credit. Your portrait session will result in 40-60 final images for you order from, which will typically be ready 1-2 weeks after your session. An ordering appointment (in-person or video chat) will allow you to review your images and purchase your prints and products with professional guidance.
If your dog is over the age of 12 or has a terminal condition, I offer a special 30 minute portrait package with a keepsake product for $150.
All sessions are on-location. I will come to you, or we will meet in a location that suits your needs. I photograph throughout the Kamloops, British Columbia area, including Barriere, Clearwater, Chase, Vernon, and Merritt. I am happy to go beyond this with advanced notice. Travel within 30km of Kamloops is complimentary; mileage beyond this is compensated at a rate of $0.50/kilometre. Flat rates are available for many areas within two hours of Kamloops.
---
BOOKING
Are you ready for heartfelt photos of your dog? Contact me for photography session information today!