JUMP TO: PRODUCTS // PRICING // FAQ // CONTACT
A review from Natalie in Kamloops, BC: "Words can not describe how I felt looking at those BEAUTIFUL pictures that you took of us! They brought tears to my eyes. You captured us to a T."
---
POSE WITH CONFIDENCE
Family portraits, maternity, graduations, and engagement sessions are some of my popular portrait services. You'll be posed in the most flattering ways for your body type, so you'll be sure to look great. Plus, my relaxed and friendly personality will put you at ease.
The great outdoors is my backdrop, and I have curated a list of the best places in Kamloops and area to photograph you. Sessions are spent walking, laughing, and getting to know each other, with photos taken in between. Both natural poses and candid photos provide a great variety. You will be amazed at all the beautiful images that result!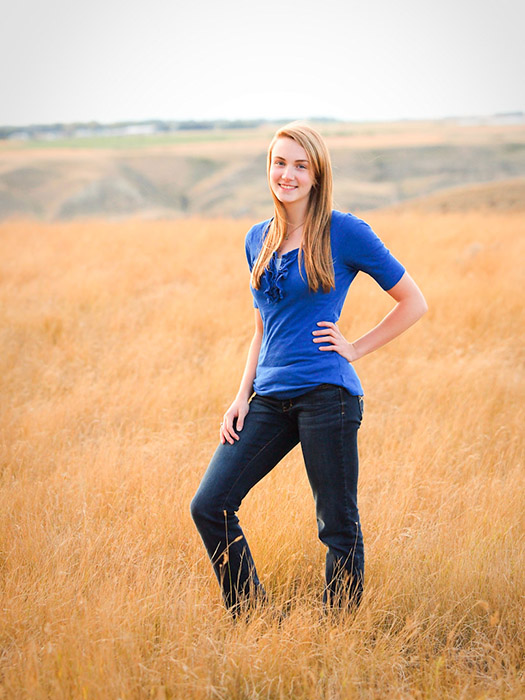 ---
PRODUCTS – PRINT TO PRESERVE
After creating your custom portraits, we will select your favourites together, in-person or virtually. You will be able to view artwork samples and I will recommend the best mediums for displaying your particular images. Print, cherish, and share your stunning photos!
For those planning wall art, you can preview your images on your walls with my visualization software.Your full collection of images can be displayed in an album designed just for you. Gift items include small prints, image cubes, and collages. Each item is personally inspected before being delivered to you. Slideshows and digital images sized for social media allow you to share your favourites with all of your friends and family.
Don't let a USB of your memories sit in a drawer for months or even years before you get around to printing them. You can have your professional prints much sooner, and their quality ensures they will last a lifetime.
---
PRICING
A 60-90 minute photography session is $250, and includes a $100 print credit. Your portrait session will result in 40-60 final images for you to order from, which will typically be ready 1-2 weeks after your session. An ordering appointment (in-person or video chat) will allow you to review your images and purchase your prints and products with professional guidance. Most clients spend $500-$1500 on their favourite images.
I photograph throughout the Kamloops, British Columbia area, including Barriere, Clearwater, Chase, Vernon, and Merritt. I am happy to go beyond this with advance notice. Travel within 30km of Kamloops is complimentary; mileage beyond this is compensated at a rate of $0.50/kilometer. Flat rates are available for many areas within two hours of Kamloops.
---
FAQ
WHERE CAN I HAVE MY PHOTOS TAKEN?
I will help you choose a location that reflects your personality. That may be your own backyard, a nearby tree-lined park, or a quiet field, forest, or lake view. I know all the best spots and have exclusive access to some special ones!
WHAT IS INVOLVED IN A PORTRAIT PHOTOGRAPHY SESSION?
We'll walk between a few different backdrops within our location to capture you in different scenes. We will utilize elements such as trees, pathways, and bridges to help pose you in interesting ways, and I will capture candids as we go too.
WHERE DO I LOOK? WHAT DO I DO WITH MY HANDS?
Most people feel awkward at the beginning of a photo session. Because we will be shooting in a relaxed outdoor space and I will be telling hilarious dad jokes, your nerves will soon melt away! I will guide you where to look and what to do with your hands and body, and you will quickly feel comfortable. You won't spend much time looking directly at the camera at the beginning, as I get you warmed up to posing and feeling great about yourself.
WHAT IF MY KIDS WON'T SIT STILL FOR PHOTOS?
This is a common question! Family sessions with young children are structured as a play session with posed arrangements as attention allows. I have lots of games to get kids to look at the camera!
HOW MUCH ARE PRINTS AND PRODUCTS?
Before your session, I will send you a full product guide. Fee-free payment plans are available so you can get everything you want. Starting prices are:
Professional print packages: $120+
Gallery wrapped canvas: $350+
Prints on metal: $350+
Custom-designed hardcover album: $550+
Cards, collages, and photo cubes: $150+
Digital images: $50+
---
CONTACT