JUMP TO: PRODUCTS // PRICING // FAQ // CONTACT
A review from Brittanya & Shamsu: "I am so entirely impressed and very happy with the pictures that you took of us! I love that you knew exactly where to take us for the best shots even though you had never been to our place and managed to capture our relationship so accurately! Plus it was fun! Your advice on choosing pictures has been invaluable. I can't wait to do another shoot! Thank you soooo much!"
---
YOUR CONNECTION, CAPTURED
As a lifelong equestrian myself, I appreciate the deep commitment you have to your horse. My ability to capture this bond has made horse and rider portraits one of my most popular services. Enjoy the company of your horse, with light posing guidance, while I create heartfelt portraits. The horse may be in hand, under saddle, or both. Sessions can also focus only on your horse, with headshots, photos taken at liberty, and closeups of all the things that make them unique.
Beyond simply celebrating your day-to-day relationship with your horse, special occasions to have a horse and rider photo session include:
graduation photos in your dress or formal wear

to preserve memories of an outgrown or aging mount

as part of a family portrait session

to promote your equine business
STALLIONS & SALE HORSES
A picture is worth a thousand words and can be worth thousands of dollars when it comes to stallion advertisement and sale horse promotion. Professional photos show your horse off to their best advantage and instantly add value. Digital image packages are available for these sessions.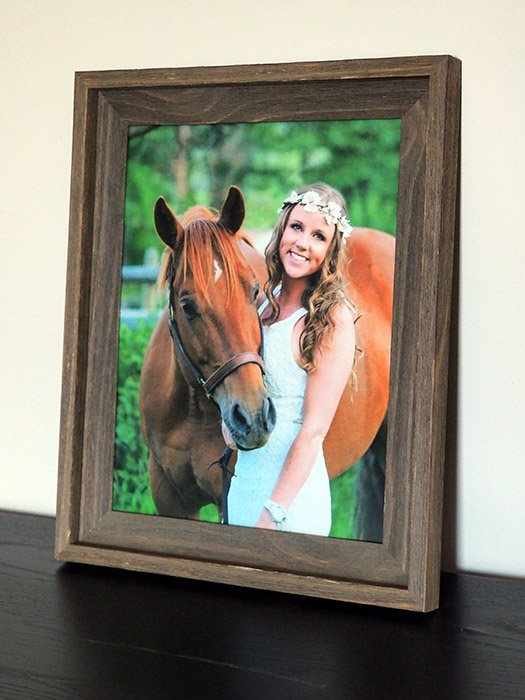 ---
PRODUCTS – PRINT TO PRESERVE
After creating your custom portraits, we will select your favourites together, in-person or virtually. You will be able to view artwork samples and I will recommend the best mediums for displaying your particular images. Print, cherish, and share your stunning photos!
For those planning wall art, you can preview your images on your walls with my visualization software. Your full collection of images can be displayed in an album designed just for you. Gift items include small prints, image cubes, and collages. Each item is personally inspected before being delivered to you. Slideshows and digital images sized for social media allow you to share your favourites with all of your friends and family.
Don't let a USB of your memories sit in a drawer for months or even years before you get around to printing them. You can have your professional prints much sooner, and their quality ensures they will last a lifetime.
---
PRICING
A 60-90 minute photography session is $250 and includes a $100 print credit. Your portrait session will result in 40-60 final images for you to order from, which will typically be ready 1-2 weeks after your session. An ordering appointment (in-person or video chat) will allow you to review your images and purchase your prints and products with professional guidance. Most clients spend $500-$1500 on their favourite images.
I photograph throughout the Kamloops, British Columbia area, including Barriere, Clearwater, Chase, Vernon, and Merritt. I am happy to go beyond this with advance notice. Travel within 30km of Kamloops is complimentary; mileage beyond this is compensated at a rate of $0.50/kilometer. Flat rates are available for many areas within two hours of Kamloops.
---
FAQ
WHERE CAN I HAVE MY HORSE PHOTOS TAKEN?
I will come to where your horse is kept and identify all the hidden gem backgrounds with the best light. If you have a trailer, we can meet in a unique location such as the beach, a sparkling lake, or earthy forest.
WHAT IF MY HORSE CAN'T STAND STILL FOR PHOTOS?
My sessions are on the go, walking between different spots to keep the horse interested. At each location, I will suggest flattering poses that work with the energy level of your horse. When we stop, I have lots of tricks to get your horse to look for the moment it takes for a photo (plus, my shutter is as fast as 1/8000 of a second — no horse can move faster than that!). Your horse will get breaks to eat grass and smell the roses along the way. Trust me, even the flightiest horse has yet to escape my magic lens!
WHERE DO I LOOK? WHAT DO I DO WITH MY HANDS?
Most people feel awkward at the beginning of a photo session. Because we will be shooting in a relaxed outdoor space and you will have your horse to focus on, you should feel more at ease. You won't spend much time looking directly at the camera. I will guide you where to look and what to do with your hands and body, and you will quickly feel comfortable. I provide open-ended posing guidance: I will give you an idea of what to do, but exactly how it's done is up to you (for example, give your horse a hug). This results in natural, candid photos.
HOW MUCH ARE PRINTS AND PRODUCTS?
Before your session, I will send you a full product guide. Fee-free payment plans are available so you can get everything you want. Starting prices are:
Professional print packages: $120+
Gallery wrapped canvas: $350+
Prints on metal: $350+
Custom-designed hardcover album: $550+
Cards, collages, and photo cubes: $150+
Digital images: $50+
---
CONTACT
Are you ready for beautiful photos of your horse? Contact me for photography session information today!