In early April, before any greenery was out yet, Samantha and Allen wanted to do a maternity photo session in Barriere (ok, Samantha wanted to, and convinced Allen he should come too 😉 ). The great thing about the mainly coniferous forest on our acreage is that it is green year round, so with some strategic framing, I can make it look like spring any time. I thought about seeing if Samantha wanted to wait a bit for the leaves to come out, as her due date wasn't for a couple weeks, but good thing we didn't, as she went into labour only three days after these photos were taken! She delivered a healthy baby boy, O'Shea, on April 10th.
Samantha is a multi-talented hair dresser, makeup artist, and waxer, who runs The Sugar Shack in Barriere. She posted on her page that she would be working right up until her due date, and would then be taking some time off until July. I had a hair cut with her on April 9th and after my appointment, she had two colours to do. While she was cutting my hair, she was telling me that she had been having small contractions since that morning, and by 1:25am on the 10th, O'Shea had arrived! So she wasn't kidding about working right up until she was due. :p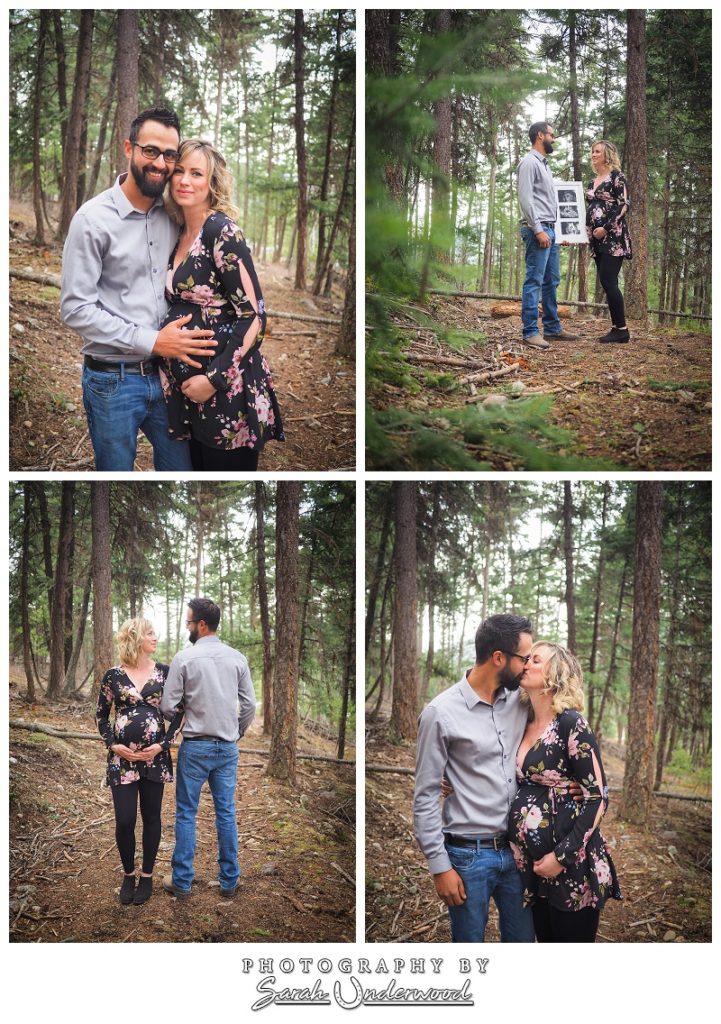 Kirin was one of the first people I met when I moved to Kamloops.  We became quick friends, having world travels in common, and he proved to be a reliable, generous, and easy going friend.  I'm sure these are just some of the qualities that his fiance Kirsten appreciates.  She is kind, loyal, and motivated and these two complement each other so well.  I'm glad to now call them both friends!  I'm honoured that they've chosen me to photograph their wedding this September.  We had so much fun doing their engagement session photos in Wells Grey Provincial Park, near Clearwater, British Columbia.  Below is their engagement session slideshow, and Kirsten also answered a few questions about their relationship to make this blog story-rich as well as photo-rich… enjoy!
 How did you meet?
The new world way – online dating.  They say there are plenty of fish in the sea, but it lead me to find the only man for me! Our first date was at a Starbucks. I showed up wearing heels, as I always dress up for a first date, and he showed up on a street bike in leathers. At first I thought he was chach and he thought I was prissy and didn't believe my love of the outdoors and camping – just goes to show you that first impressions aren't everything and are often proven wrong. We sat for hours and talked until they kicked us out of Starbucks, by which time our true personalities had come through. On my way home, I called a friend and told her I may have just gone on the last first date of my life… and the rest is history!
One of my stopovers on my way home from New Zealand  in 2011 was in Los Angeles (the others were Tahiti, Phoenix, and Las Vegas, if you're curious!). There, my travel partner Juli and I stayed with a friend of hers, Christine. Christine has a beautiful warmblood mare, Lea, so we went out to visit her and take some photos. This was my first horse & rider shoot of the new year, and I couldn't have asked for better models! Christine had a perma-smile on her face, and who wouldn't, being around a sweet mare like Lea? Besides that, the mare should teach equine posing classes! There was hardly a photo in which she didn't have an earnest expression with her ears pricked, and she held each "pose" with plenty of time for me to capture the shots I wanted. I swear I could hear her saying, "Did you get my good side?" 😉 To add to the perfection, there were cherry trees (or almond trees perhaps?) in bloom, which made for a beautiful backdrop.